The Website of William Van Crouch, Author & Motivational Speaker
Schedule Van Now
Corporate conventions, trade associations and faith based leadership organizations know motivational speaker and author, Van Crouch. He will help you obtain your objectives and vision.To find out how he might help your organization's next event, CLICK HERE.
Upcoming Engagements
With a roster of Fortune 500 companies, management and sales conventions as well as significant churches, athletic teams and faith based organizations, Van is always on the go. To find a meeting near you, simply CLICK HERE.
What Others Are Saying
With more than twenty-five years of proven track record entertaining audiences in every venue and every profession, Van has earned plenty of fans. To read what other leaders and professionals have to say, CLICK HERE.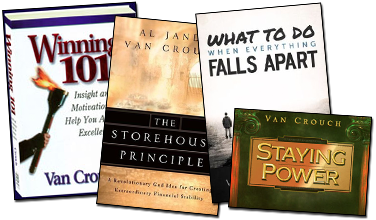 To find out more information or purchase one of Van's best-selling and award-winning books on leadership, encouragement, motivation, life-coaching or self-help, visit our Bookstore page by CLICKING HERE.